Product Description
Hakko FX100-04 Induction Heat Soldering System

Raising the world standard in induction heating soldering irons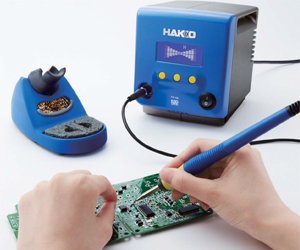 The FX-100 soldering system brings induction heat soldering technology to an even higher performance level. This small, compact station includes microprocessor control that boost the recovery performance of the soldering iron tip, and an Advanced System Design optimizes performance by reducing the loss of power in the system while maintaining the lowest EMI levels to meet applicable standards, especially for work with sensitive devices.
The unique Induction Heating (IH) system used by the HAKKO FX-100, which automatically heats the tips and rapidly returns it to the fixed temperature whenever a load is applied to the tip, includes HAKKO's proprietary "Power Assist" function.
This function provides less temperature drop and improved thermal recovery when soldering. And if you need a bit more power for those challenging solder joints, just select "Boost Mode".
The system is simple to operate — just plug it in and turn it on. No calibration required.
FX-100 features:
• User selectable Power Activity Display providing constant dynamic feedback to the operator about the thermal load on the soldering iron tip
• T31 Series Tip Cartridges provide HAKKO's renowned tip life with greater power at each of the two temperature selections
• Password Lockout prevents unauthorized system setup changes
• Tip Sleep function reduces tip temperature to preserve tip life and reduce oxidation when the iron is not in use
• Large Backlit Display provides a clear and simple interface with the operator
• User Programmable Profiles for tip and solder selection
• Activity Monitor provide cumulative data on tip heater loads and tip running time to aid in process control and managing operating costs
• Auto-Power Off safety feature
• Compact design minimizes the workbench footprint
• Slender, lightweight, and ergonomically designed handpiece with burn resistant cord allowing for excellent operator dexterity
• Meets or exceeds requirements under IPC J-STD-001, ANSDI ESD S20.20 and older MIL-STDs.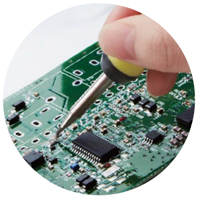 T31 Series tips ordered separately
Model Name

FX100

Part Number

FX100-04

Voltage

120V

Power Consumption

85W

Temperature Stability & Accuracy

Meets or Exceeds UPC J-STD-001

Output Power

50W

Output Frequency

13.56 MHz

Weight

6.6 lb. (3 kg)

Dimensions
(W x H x D)
5.0 x 5.9 x 6.6 in.
(127 x 150 x 167 mm)

SOLDERING IRON – HANDPIECE
Model Number

FX-1001

Part Number

FX1001-51

Tip-to-Ground Resistance

< 2 ohms

Tip-to-Ground Potential

< 2mV

Length of cord

4.3 ft. (1.3 m)

Total Length (w/o cord)

7.5 in. (190 mm) w/T31-02D24 tip

Weight (w/o cord)

0.07 lb. (31 g) w/T31-02D24 tip

Tips (not included)

T31-01 Series = 840°F (450°C)
T31-02 Series = 750°F (400°C)

Reach

4.3 ft. (1.3m)

Heating Element

High Frequency Induction-Type
CONTENTS
Part Number

Description

FX100-04

FX-100 Soldering Station
w/ FX-1001 Soldering Iron

FH800-51BY

Iron Holder

B2300

Heat resistant pad

B2419

3-wire Power Cord

B5006

Yellow Soldering Iron Grip
(Installed)

B5007

Green Soldering Iron Grip

B5008

Gray Soldering Iron Grip

N/A

Instruction Manual



Kiesub Electronics is a leading distributor of Hakko soldering equipment.  Located in Las Vegas, we stock a wide variety of Hakko soldering stations, desoldering and rework stations, solder tips, desolder nozzles, analog and digital soldering stations, soldering irons and guns, solder and solder paste, and many other soldering accessories.