Product Description
Hakko FM-204 Desoldering & Soldering Station

FREE UPS GROUND SHIPPING
The Hakko FM-204 Desoldering & Soldering Station is a "Self-Contained" Desoldering Station/Rework Tool with all the Soldering Functionality of the FM-203 in a Single-Port Station.
The FM-204 ships with one (1) FM2024-02 desoldering tool.
Built in vacuum pump
Temperature range 200 – 450°C (400 – 840°F)
Temperature accuracy ±15°C
Quick-change composite nozzles (N3 series)
Gun or Pencil-style desoldering handpiece
Sleep mode functionality
Excellent thermal recovery
The integrated nozzle containing both heating element and sensor provides higher thermal recovery than conventional tips.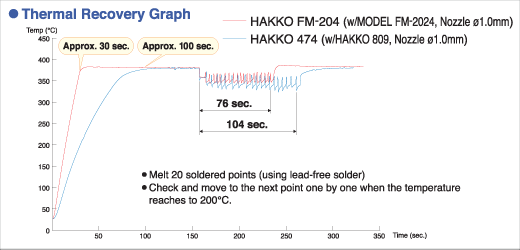 Nozzles are NOT included
Note: The FM-204 and FM204-CP (Conversion Port) are "SINGLE PORT" stations, meaning, ONLY ONE HANDPIECE can be used at a time. (You cannot use the soldering handpiece and desoldering handpiece at the same time.)



Kiesub Electronics is a leading distributor of Hakko soldering equipment.  Located in Las Vegas, we stock a wide variety of Hakko soldering stations, desoldering and rework stations, solder tips, desolder nozzles, analog and digital soldering stations, soldering irons and guns, solder and solder paste, and many other soldering accessories.