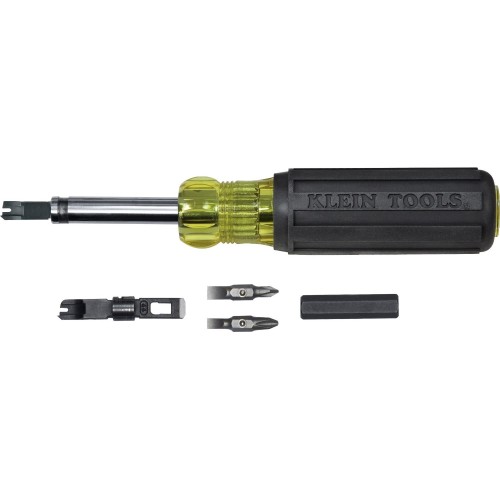 Klein Tools VDV001-081 8-in-1 Punch Down Screwdriver Multi-Tool
Klein Tools VDV001-081 8-in-1 Punch Down Screwdriver Multi-Tool
Klein Tools VDV001-081 Punch down screwdriver multi-tool can terminate and cut wire in one step with included 110/66 combination cut-type punchdown blade with precision ground cutting edge.
Non-impact wire termination.
Machine-tooled steel bits for superior strength.
Heavy-duty blade barrel provides storage for bits.
Bayonet-style (twist & lock) socket accepts most manufacturers' punchdown blades.
Cushion-Grip handle for greater torque and enhanced comfort.
Tip-Ident® for quick identification of tool.
Two Phillips screwdriver tips: #1 and #2.
Two slotted screwdriver tips: 3/16" (5 mm) and 1/4" (6 mm).
Two nut drivers: 1/4" (6 mm) and 3/8" (10 mm).