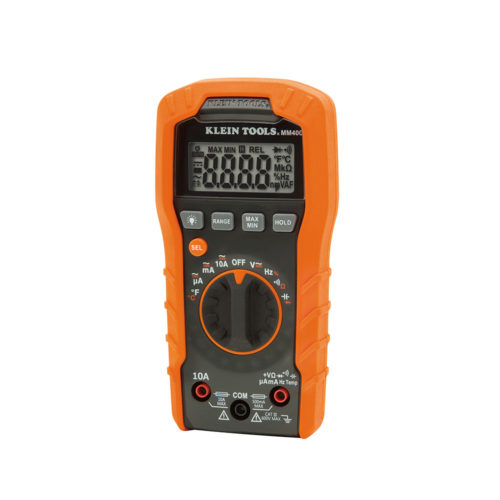 Klein Tools MM400 Auto Ranging Multimeter
Klein Tools MM400 Auto Ranging Multimeter
The Klein Tools  MM400 is an auto-ranging multimeter. It measures AC / DC voltage, AC / DC current, resistance, capacitance, temperature, and frequency. It can also test diodes and continuity. Klein tools electrical testers are loaded with the latest innovative time saving features. They are designed by electrcians for electricians.
Measures up to 600V AC/DC voltage, 10A AC/DC current and 40 MΩ resistance.
Measures temperature, capacitance, frequency, duty-cycle, and test diodes and continuity.
CAT III 600V safety rating.
Built to withstand a 3.3′ (1 m) drop and withstand daily wear and tear on the job site.
Low battery indicator and easily accessible battery compartment.
For use in basic and controlled electromagnetic environments such as residential, business and light-industrial locations.
Includes test leads, thermocouple with adapter and batteries.