Fry's Electronics Customers in Las Vegas-Come By and Visit Kiesub Electronics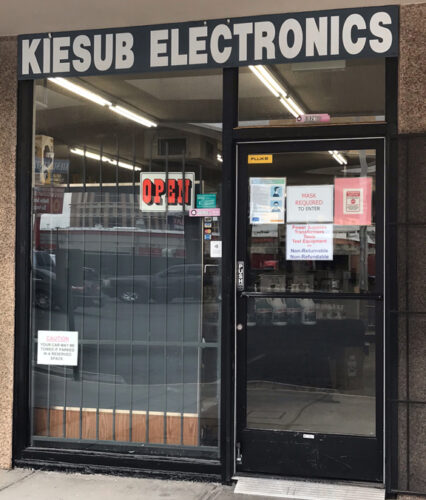 Fry's Electronics Customers in Las Vegas-Come By and Visit Kiesub Electronics
Fry's Electronics has closed all of its locations.  If you shopped at Fry's in Las Vegas, you may be wondering where to buy your electronic parts and computer networking products, including Cat5e/Cat6 patch cables, bulk wire, RJ45 connectors, tools, and fiber optic cables. We stock these items here at Kiesub Electronics.  Visit us at our store If you are looking for fuses, NTE parts, switches, cooling fans, semiconductors, capacitors, resistors, relays, heat shrink tubing, hook-up wire, and much more.
We are a walk-in Electronic Parts store, and we have been in business in the same location off of Highland and Desert Inn in  Las Vegas for nearly 50 years.  We are open Monday through Friday, 7:30 am to 4:00 pm, both to working technicians and the public.  We are one of the largest wholesale distributors of Duracell and Energizer alkaline and rechargeable batteries in the Southwest.
We are "old school".  We are "face-to-face" people.  Our salespeople have an average of 30 years working in electronics stores.  Similar to Fry's Electronics, most of the items that we carry in our store are not on our website.  We don't have refrigerators, TVs and vacuums like Fry's Electronics, but come on over to see our incredible selection of flashlights, hand tools, Klein Tools, Makita power tools, tool cases and backpacks, tool holsters, Pelican cases, Fluke test equipment and accessories, Neutrik audio connectors, Hakko and Weller soldering stations and accessories, solder and soldering tools, audio and video cables, connector and adapters, surveillance camera cables, cable ties, Velcro wrap ties, spiral wrap, expandable sleeving,
Our inventory on these items surpassed Fry's Electronics inventory here in Las Vegas for many years.  We were here before Fry's, we're here for you now, and we are not going anywhere.  Hope to see you soon.
2 Blocks from the Strip
Between Sahara & Spring Mountain
(702) 733-0024